Amit Aggarwal's Crystalis stand out at ICW 2018
28
Jul '18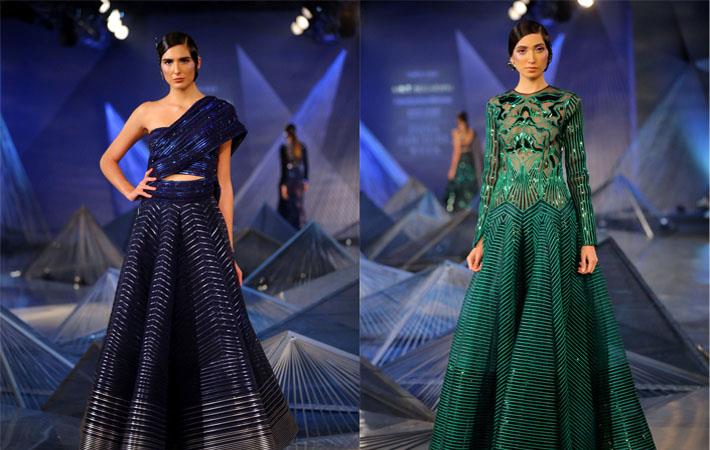 Designer Amit Aggarwal showcasing collection at ICW 18.
Fashion designer Amit Aggarwal debuted at the India Couture Week (ICW) 2018 with Crystalis, a derivation of words crystal and chrysalis. In line with his vision, the Couture 2018 collection was inspired by two wondrous natural phenomena, the formation of crystals at a molecular level and the enveloping of the metallic chrysalis around a butterfly cocoon.
The collection's color palette consisted of jewel tones of rose quartz, silver onyx, emerald, amethyst, topaz and sapphire, as well as metallic shades of rose gold, silver, pewter and light gold have been specifically tailored to bring the aforementioned concepts to life most accurately.
"For this collection, we have explored a range of hand done three dimensional embroideries in various crystalline and bio mimicked forms and motifs to give our fabrics a unique visual and tactile quality. We collaborated with textile designer TaniraSethi to create one-of-a kind, engineered and embellished cashmere laces, meticulously knitted in France and subsequently embroidered and sculpted in-house to create innovatively draped couture pieces," a press release said.
One of the most compelling stories in the couture 2018 presentation is Crystalis' extensive silhouette exploration, morphing different aspects of traditional Indian and western couture shapes with each other and infusing them with structure and form. Amit Aggarwal has long pioneered in engineering modern and innovative couture inspired by nature's awe-inspiring forms, while seamlessly combining India's rich textile heritage and commitment to environmental sustainability. (RR)
Fibre2Fashion News Desk – India