Central Asia's largest glass production facility launched in Turkmenistan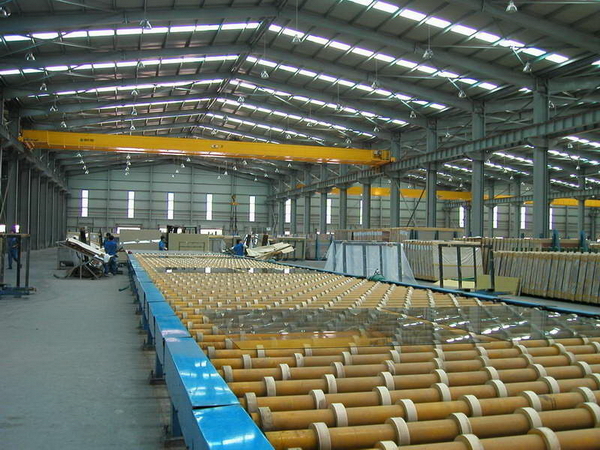 By Kamila Aliyeva
The largest glass manufacturing enterprise in the Central Asian region, Türkmen aýna önümleri (Turkmen glass products), was opened in Ovadandepe, 25 kilometers north of Ashgabat, the Turkmen leader's press service reported on February 14.
"At the initial stage, 15 types of products are planned to be produced here, the assortment will increase with time, and some part of the output will be exported," Turkmen President Gurbanguly Berdimuhamedov said at the opening ceremony.
The enterprise will produce float glass (polished, sheet glass) and various containers for the food and medical industry. Investments in the project amounted to $375 million. Over 800 new jobs were created.
Berdimuhamedov noted that the enterprise will annually produce 3.95 million square meters of transparent glass, 1 million square meters of tinted glass, 300,000 square meters of tempered glass and 100,000 square meters of laminated glass, as well as 400,000 square meters of high-quality double-glazed windows.
He also stressed that currently 70 percent of raw materials for glass manufacturing are produced in Turkmenistan, and soon it is planned to bring the level of localization to 100 percent.
The commissioning of the enterprise will significantly reduce the volume of imports of relevant products to the country, and in the future, to export in a wide range of finished glass products, according to the Turkmen leader.
In addition, Berdimuhamedov stressed that Turkmenistan, which has embarked on industrialization, will give priority to the construction of high-tech industrial enterprises, which will allow the state to ensure high rates of economic development.
Turkmen President Gurbanguly Berdimuhamedov also took part in the opening of the complex of office and trade objects.
The construction of a large industrial complex with a factory for the production of quartz sand – the main raw material for glass production started in 2015. The project was implemented within the framework of state programs of import substitution and increasing the export potential of the national economy. 
—
Kamila Aliyeva is AzerNews' staff journalist, follow her on Twitter: @Kami_Aliyeva
Follow us on Twitter @AzerNewsAz