Czechs seek to boost Iran trade with reconstruction package and agricultural ambassador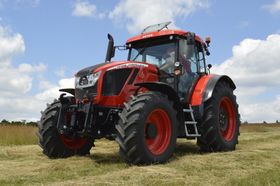 Zetor tractor, photo: Fruitman / CC BY-SA 4.0 It has to be said that current two-way trade is almost non-existent; counting for less than 100 million US dollars. Czech exports currently run to around 61.46 million US dollars with Iranian imports at just 92,000 dollars.
Clearly the former strict trade embargo with Iran was a major factor in that freeze of relations. But Prague and the rest of the West has woken up to the potential of an energy rich country that needs to rapidly modernise and update a lot of its key infrastructure.
Last week Czech industry and trade minister Tomáš Hüner with the Iranian raw materials minister as part of the mixed Czech-Iranian committee for boosting trade. Hüner highlighted the fact that Czech exports of technology and expertise linked with updating Iran's infrastructure have re-started.
He underlined the opportunities in the petrochemicals sector, where Czechoslovakia formerly played a major role, as well as environmental projects. And he held out the prospects that Czechs could soon boost exports of the famed Zetor farm tractors. Since 2016 around several dozen tractors a year have been sent from the Brno factory.
Prague is also looking to come up with a framework for a package of reconstruction help for Iran with an inter-ministerial committee currently seeking to shape what that could look like.
And the Czech Republic is also planning to send a so-call agricultural ambassador to Iran to boost the sales of Czech foodstuffs as well as farm technology.
Such ambassadors have already been dispatched over the last three years to Russia, China, Saudi Arabia, Serbia, and the United States. From this January Lebanon was added to the list with Japan and Mexico expected to be new additions to the list by the end of the year.
The Czech Federation of Food and Drinks Industries has confirmed that apart from tractor and technology exports, the export of Czech foodstuffs to Iran at the moment is almost non-existent; adding that whatever help could be offered on such a market would be welcome.