H&M needs to refocus on its strategy to bring back sales
"2018 sales data of H&M reveals rather an alarming figure for the company as the operating profit dropped by 13 per cent for the year to 30 November 2017 while sales grew by just 3 per cent, which was not an expected performance. The problem started in 2016 when shoppers started purchasing online, and heightened competition in the fast fashion sector added pressure. According to Richard Chamberlain, analyst, RBC Capital Markets, H&M has been somewhat stuck in the middle, between value fashion retailers such as Primark, and retailers with more margins that can absorb the costs of online development."
2018 sales data of H&M reveals rather an alarming figure for the company as the operating profit dropped by 13 per cent for the year to 30 November 2017 while sales grew by just 3 per cent, which was not an expected performance. The problem started in 2016 when shoppers started purchasing online, and heightened competition in the fast fashion sector added pressure. According to Richard Chamberlain, analyst, RBC Capital Markets, H&M has been somewhat stuck in the middle, between value fashion retailers such as Primark, and retailers with more margins that can absorb the costs of online development. Giving Zara's example, he said that the company uses centralised distribution from La Coruña, north-west Spain, and can easily adapt to fulfil online orders. H&M, however, operates from local warehouses, necessitating replication of stock.
In order to boost sales, H&M has started piloting RFID (Radio Frequency Identification) technology, which aims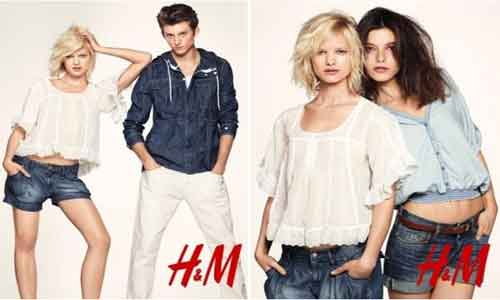 to improve how it can locate items with digital price tags. It will be gradually rolled out across more markets this year. while the signs are encouraging, H&M still needs to buckle up, believe trade analysts. The company also needs to work faster to offer competitive delivery and collection options. Currently, customers pay for deliveries and returns unless a minimum purchase is made. A click-and-collect service, meanwhile, only started in the UK in 2017. Cedric Lecasble, European retail senior analyst at Raymond James, stated that offering these services for free might pressure its margins a bit, but it is really a top-line issue. To recover the top line, one should recover volume and traction, and to recover traction, they need to be more competitive in what they are offering consumers.
While the company highly banks on its physical stores growth, the company's ambitious digital plans point towards online sales growth of 25 per cent in 2018. Pointing towards some of the aspects that the company needs to be work on, Martin Newman, executive chairman, Practicology, said that it has not taken the step to provide product ratings and reviews, which rivals such as Arcadia's Topshop offer. These tactics are important in boosting conversion as they can give customers a feeling of empowerment. Even with value price points, people want to know that what they are buying is ultimately a good purchase and has some durability. It's that reassurance they can get from other people like them that is missing. It is all about customer empowerment.
New launches in the offing
H&M Group has announced a string of launches in recent months. These include the April launch of online luxury label Nyden and an affordable bridal range. Discount fashion site Afound, meanwhile, will launch later this year. Premium basics brand Arket, which launched last year, continues to expand with new stores, and H&M's latest designer collaboration with Moschino will hit selected shops in November. Anusha Couttigane, senior fashion analyst, Kantar Consulting, averred that it seems that every month there is a new brand or fascia. They are trying to innovate, and that they are struggling so they want to find new ways to stimulate new interest, it's a little bit of a distraction in getting some of the basics right. But it needs to scale back a bit, and focus on building out some of those ranges. With a changing market, demanding shoppers and an expanding portfolio of brands, H&M Group has its work cut out, but it finally seems to be addressing the issues that have caused it to lag behind in recent years.