Lexington man charged with stealing heat pumps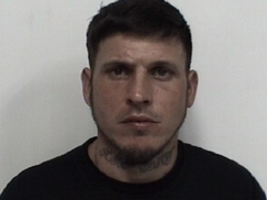 LEXINGTON — A Lexington man has been charged with stealing heat pumps and air-handling units worth an estimated $14,350.
On Saturday, the Davidson County Sheriff's Office received a report of someone stealing two Carrier heat pumps from a West Lexington residence.
Deputies began investigating Monday, according to a sheriff's office news release. They were able to get photos from the victim's neighbor's camera system which helped them to identify a suspect.
On that same day, deputies stopped 32-year-old Roger William Vanzant, of 190 Pineland Ave. He was issued a driving while license revoked citation. On Tuesday, Lexington police were on the lookout for a vehicle matching Vanzant's in a larceny at Parkway Ford.
Deputies and police officers went to Vanzant's residence to talk with him. During the investigation, a white enclosed trailer was found. The vehicle's ID number was ran and it was found to be stolen out of Randolph County on Friday. Authorities recovered the trailer.
Along with the trailer, deputies also found the 10 heat pumps and three air-handling units.
Vanzant was charged with felony possession of stolen goods, as well as, six counts of felony larceny, breaking and entering, and larceny after breaking and entering. His bail was set at $120,000 with a court date of Feb. 27.
Vanzant is still under investigation and has more charges pending.