Manufacturing Companies Coalition Rolls Out Pilot To Give Second Life To Plastic Waste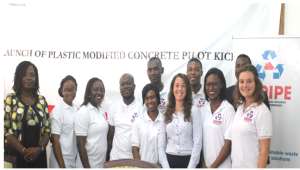 Representatives from GRIPE member companies and Project consultants.
Accra, 4th April, 2018 – The Ghana Recycling Initiative by Private Enterprises (GRIPE), an industry coalition of eight (8) major manufacturing companies, in support of its mission to integrate sustainable waste management solutions has rolled out an innovative plastics recycling pilot to tackle the plastic waste menace in Ghana.
The pilot will be a five-seater toilet facility in Kumasi built from the first plastic modified concrete. It will be implemented by EAP Consult Ltd with financial support from GRIPE and partnership from the Ghana Standards Authority (GSA) and the Centre for Scientific and Industrial Research – Building and Road Research Institute (CSIR-BRRI).
At a media launch of the pilot, a member of the GRIPE working group, Adwoa Coleman, said the pilot will provide a key move towards supporting efforts to tackle plastic waste challenge in Ghana.
"The modified concrete pilot kick off is one of GRIPE's approach to address plastic waste management and ensure that industry supports Government's efforts to tackle the negative externalities created by plastics", she added.
She noted that among others, GRIPE is committed to ensuring that industry plays a critical role towards driving the agenda towards the new plastics economy; adding, "We will achieve this through integrating sustainable waste management solutions, advocating for improved waste management practices, contributing to increased collection and recycling rates countrywide, and providing employment opportunities through this sustainable and scalable recycling solution".
Heather Troutman of EAP Consult Ltd, implementing partners for the pilot indicated that waste plastics are valuable resources having numerous opportunities to be recycled into high-value, high-performance products, such as light-weight, insulated concrete.
"By investing in innovative recycling technologies, we can create millions of jobs cleaning plastics out of the environment and transforming them into affordable products to support Ghana's development sustainably", she added.
Mr. John Pwamang, Deputy Executive Director in charge of Operations at the Environmental Protection Agency (EPA), commended GRIPE for coming out with such a laudable initiative that would help the country address the plastic menace.
He said many consultations over the plastic waste management had proven that banning plastics in Ghana was not realistic because of its socio-economic benefits but rather finding a proper way of disposing them was a better option.
About GRIPE
The Ghana Recycling Initiative by Private Enterprises (GRIPE) is an industry-led initiative under the auspices of the Association of Ghana Industries (AGI) with Coca-Cola Bottling Company of Ghana, Dow Chemical West Africa Limited, Fan Milk Ghana Limited, Guinness Ghana Breweries Limited, Nestlé Ghana Limited, PZ Cussons Ghana Limited, Unilever Ghana and Voltic (GH) Limited, as founding members.
Since its launch in November 2017, the industry-led coalition has engaged with Government on tackling plastic waste in Ghana and supporting efforts to find alternative solutions to the issue of plastic waste management.