MCR 72 and MCR 92: The Entry-Tickets into the World of Rheometry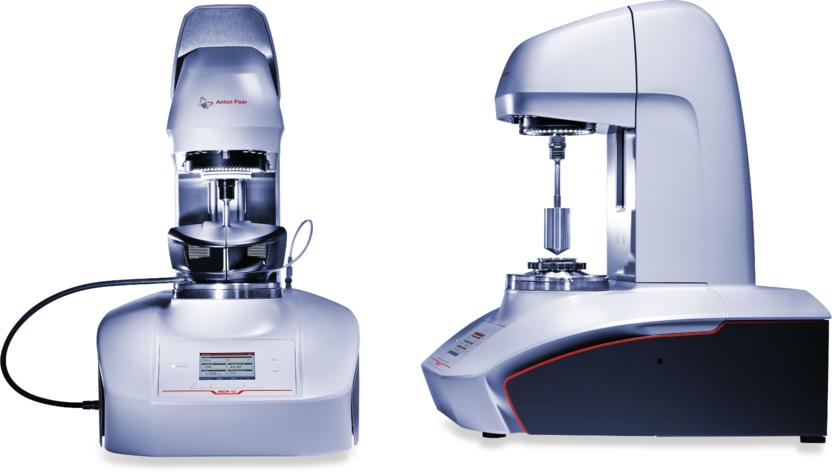 Accurate temperature control
Concentric cylinder system
The EDU Edition of MCR 92 and MCR 92
Anton Paar's MCR rheometers have opened more doors and created more testing possibilities than any other rheometer in the world. In keeping with this tradition, Anton Paar is now expanding the rheometer family with MCR 72 and MCR 92. With these new instruments your sample's flow behavior, deformation, and structure can be determined in a quick and easy way.
Two Models – the Choice Depends on the Application
Both models are streamlined for the daily lab routine, easy to use in a Plug and Play fashion, and available at an accommodating price. The choice of rheometer depends on your application: MCR 72 is equipped with a ball-bearing motor which means it is very robust in use and no compressed air is required. It is designed to investigate the deformation and flow behavior of a sample. MCR 92 has an air-bearing motor for sensitive samples. This rheometer is recommended for observing a sample's structure. Both rheometers enable measurements in both rotational and oscillatory mode and are available with a range of accessories to suit the application. As temperature has the biggest influence on rheological measurements there are different kinds of temperature devices on offer. Additionally, there are several measuring systems available which suit different consistencies of sample.
Unmatched Reproducibility and Easy Handling
The automatic motor-driven elevation mechanism of the measuring head and the SafeGap feature ensure that the setting of the measuring gap is always identical for every measurement and 100 % reproducible every time. The literal highlight of these two rheometer models is clearly TruRay, the lighting of the measuring surface that can be gradually regulated for a clear view of the sample. When changing between measuring systems, QuickConnect allows one-hand connection of the measuring systems and ensures fast, convenient system changes without the use of a screwing mechanism. After this, Toolmaster™ takes over by automatically recognizing the mounted tool and temperature units.
Anton Paar – Your Partner in Education
Rheological measurements can give you so much more information about your products – but where to start and how to interpret the results? To help you on your way to becoming a rheology expert, Anton Paar gives you access to a wealth of practical information on the Website "World of Rheology". Here you can browse through entertaining eLearning courses, download application reports for your industry, register for a free webinar, or read through the "tips and tricks" sections.
For academic purposes, both instruments are available as an EDU Edition, including a special EDU Package for the teaching staff as well as EDU Student Packages containing educational and office material, lab equipment and giveaways.
Request information now or download our brochure.
We are happy to answer your questions by phone at +43 (0) 316 376-366