Mending ways with the US seems to be a tall order for India
"With the US President Trump imposing import duties on Indian products such as textiles, gems and jewellery, automotive, organic chemicals and pharmaceuticals, this could spell bad times especially for SMEs in the country. The impact could be huge, as the US accounts for nearly 16 per cent of India's total exports. In 2017-18, India had a trade surplus of $21 billion with the US. The US' industrial tariffs have fallen to close to zero after several rounds of trade liberalization. But on the other hand, India still continues to impose high import duty, which the Trump administration aims to stop. For instance, India has kept high tariffs on automobiles and motorcycles (60-75 per cent), alcoholic beverages (150 per cent) and textiles (some ad valorem equivalent rates exceed 300 per cent)."
With the US President Trump imposing import duties on Indian products such as textiles, gems and jewellery, automotive, organic chemicals and pharmaceuticals, this could spell bad times especially for SMEs in the country. The impact could be huge, as the US accounts for nearly 16 per cent of India's total exports. In 2017-18, India had a trade surplus of $21 billion with the US. The US' industrial tariffs have fallen to close to zero after several rounds of trade liberalization. But on the other hand, India still continues to impose high import duty, which the Trump administration aims to stop. For instance, India has kept high tariffs on automobiles and motorcycles (60-75 per cent), alcoholic beverages (150 per cent) and textiles (some ad valorem equivalent rates exceed 300 per cent).
As per latest WTO data, in 2015 India's average bound tariff rate was 48.5 per cent, while its simple 'most favoured nation' average applied tariff was 13.4 per cent. The US claims because of this, exporters face tremendous uncertainty as India has considerable flexibility to change tariff rates at any time. During the G7 Summit, Trump had said the US is like the piggybank that everybody is robbing. He made it clear that his tariff grievances went beyond developed economies. He especially mentioned India, which he said imposed prohibitively high tariffs on US products like Harley Davidson motorcycles.
The entire situation has made it worrisome for Indian garment exporters. Currently, the US import duty on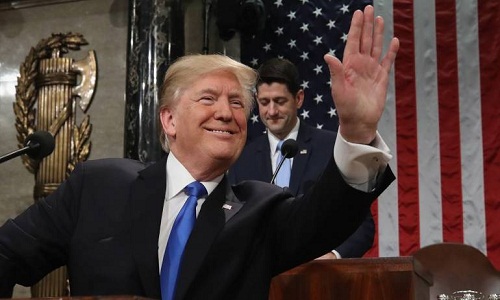 garment import varies from 8 to 28 per cent. In comparison, India imposes customs duty on garment imports at a flat rate of 32 per cent. India's garment exports in 2017-18 were 11 per cent lower than the preceding year. This declining trend has continued in the current fiscal. As much as 30 per cent of India's garment exports go to the US.
Tough task
And to take control of the situation, the Trump administration has ordered a review of India's compliance with 15 conditions outlined by the Congress for availing concession tariffs in the US market under Generalised System of Preferences (GPS). These tariff concessions are critically important for Indian SMEs exporting to the US. The Indian government has urged before the GSP subcommittee, which is conducting a review of India's eligibility and will decide if the country is providing 'equitable and reasonable' market access as a quid pro for GSP benefits. But the chances of getting preference are meagre. In fact, commerce minister Suresh Prabhu met the US secretary of commerce Wilbur Ross and US Trade Representative Robert E Lighthizer to resolve issues. The easy access that Indian exports have traditionally enjoyed in the US market could be a thing of the past, if the Modi government does not handle Trump's demand on reciprocity in bilateral trade relations.