PMC gets a helping hand from Rethink Robotics' Sawyer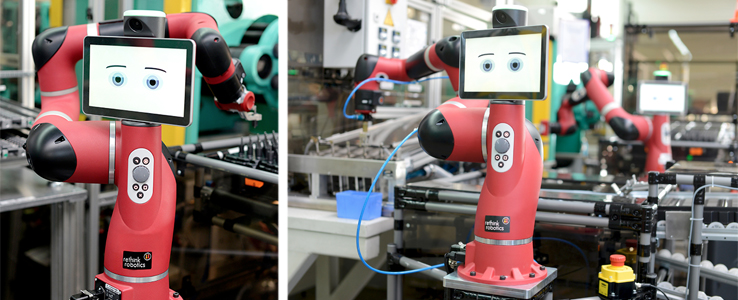 Plastic Molded Concepts (PMC), a plastics injection molding manufacturer, has deployed Rethink Robotics' Sawyer robot at its Eagle, Wisconsin, facility to drive business growth and offer high quality jobs for workers.
PMC has turned to automation to boost the efficiency of its 38 molding machines; as a first step, Sawyer is making parts for a pressure gauge.
"We qualify our success in terms of efficiency, and there's no better solution to efficiency than automation," said Larry Floyd, president at PMC, in a press release. "We initially deployed Sawyer to help us maintain the growth we've seen over the years, but after the robot was on the factory floor, it quickly became clear that automation can take us beyond our expectations, while helping to boost employee satisfaction."
In the PMC facility, Sawyer picks a part from the press and puts it on a computer numerical control (CNC) machine for holes to be drilled, detects when it is finished and places the part in a box. Sawyer waits until there are exactly 160 parts in the box, then pauses for an operator to come pick it up. The operator gives Sawyer a push to signal that it can continue, and the process repeats.
PMC works on a range of molded plastics projects for its customers, including in-mold decoration, precision machining, thermal fusion, post-molding decoration, assemblies and packaging. While its business continues to grow, the company has simultaneously seen high turnover among entry-level employees. With Sawyer, PMC aims to relieve human workers of monotonous tasks so they are free to do more value-oriented and intricate work, keeping them engaged with the company longer. In making parts for pressure gauges, the robot takes on the more tedious tasks, allowing a worker to become the robot operator, the release continues.
"Automation is a great solution to meet workforce challenges, but to be successful, it's critical that the robot is easy to deploy and operate on repetitive tasks that aren't appealing to humans," said Jim Lawton, COO at Rethink Robotics. "PMC demonstrates that automation can transform jobs in manufacturing rather than replacing them, as robots free up their human counterparts to pursue more meaningful responsibilities."
Sawyer was up and running before PMC had considered hiring its first automation engineer, Floyd said, and implementation was even easier than anticipated. "Having a collaborative robot on the manufacturing floor makes our jobs more appealing, and we're much more likely to attract and retain top talent to do valuable work."
The Eagle facility hopes to deploy more robots in the next few years; eventually, they'd like up to 30 percent of that plant's manufacturing tasks to be automated. "Sawyer made a clear and immediate impact on our business as soon as it was deployed on the factory floor," said Floyd. "We hope to duplicate this success in the very near future."