Reliable Results for Years to Come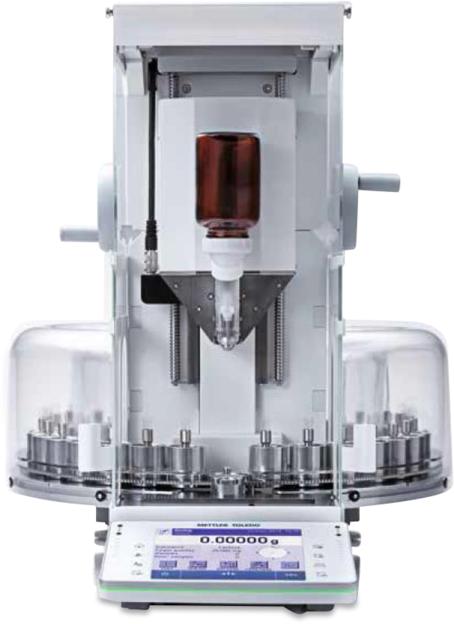 Flexible access with dual motorized doors – XPE micro-analytical balances have motorized doors on both the outer and the smaller inner draft shields
ErgoClip container holders – Weighing directly into the tare container eliminates transfer errors and saves money by minimizing sample loss.
Boost productivity with the autosampler which can dose into up to 30 vials in one fully automated run (powder and liquid dosing)
With maximum capacity up to 410 g, our 0.1 mg readability XPE precision balances give you high performance on a small footprint
Achieving reliable analytical results is dependent on the accuracy of the initial sample. Any error in sample preparation will be simply perpetuated, or even magnified, in downstream processing. With up to 60% of laboratory time spent preparing samples, you need weighing solutions that ensure you get accurate results first time to avoid out-of specification errors and costly reworking.
Whether you want to weigh several kilograms or just a few milligrams, XPE weighing and dosing solutions offer you outstanding weighing performance and innovative technologies to help make your daily tasks easier, error-free and compliant.

For Compliant Results
XPE sets a new benchmark for performance, reliability and compliance in laboratory weighing. Intelligent features and innovative technologies combine to ensure ease of use as well as deliver results you can trust. The innovative built-in StatusLight™ at the front of the balance terminal lets you see at a glance if you have the green light for weighing: balance calibration and routine tests are up to date, the balance is level, and functional tests are satisfied – simply follow the green light!
Meeting Your Needs
An investment in an XPE balance ensures you get the accurate weighing results you want today. To protect your investment, these flexible balances enable you to adapt your balance over time through the addition of accessories, extra peripheral devices, LabX and even Quantos dosing modules. Be ready for today as well as prepared for the years to come.
Automated powder and liquid dosing – Quantos
Data management and process security – LabX
Efficient applications – accessories and peripheral devices
XPE Micro-analytical Balances – Very Small Samples
Are your samples very valuable? Are they only available in small quantities or effective in just the tiniest of doses? Or perhaps you want to weigh with a larger tare container? XPE micro-analytical balances display unsurpassed accuracy even with the smallest of samples. The XPE56 micro-analytical balance has a unique maximum capacity of 52 g with a readability of 1 μg, providing a resolution of over 50 million digits. Highly sensitive, and yet robust, the XPE56 is perfect for weighing the smallest samples directly into larger tare containers.
XPE Analytical Balances – Secure Analytical Weighing
XPE analytical balances provide outstanding performance in analytical weighing and support the highest requirements for security, efficiency and ease of compliance. Automatic electrostatic detection combats one of the biggest challenges in analytical weighing – weighing errors caused by electrostatic influences. Innovative features, such as SmartGrid and StatusLight plus RFID capabilities combine to give you absolutely reliable results. Connecting your balance to LabX provides full data security to easily meet the strictest regulations.
Solving the Electrostatic Challenge – Detection and Elimination
Electrostatic charge is one of the major challenges faced in analytical weighing. Through normal handling, containers and samples can easily become charged, leading to weighing errors. The charge may also cause particles from powdered samples to be scattered, creating additional problems when handling valuable or toxic substances.
Quantos Automated Dosing – Highest Accuracy and Safety
Automated dosing with Quantos powder and liquid dispensing modules enables you to achieve the highest level of accuracy and safety in sample preparation, and can reduce minimum weight by up to 30%.
Quantos Automated Dosing Systems
The Quantos system is modular, depending on your specific dosing needs.
Request information now or download our brochure.