The Game Changer in Rotational Viscometry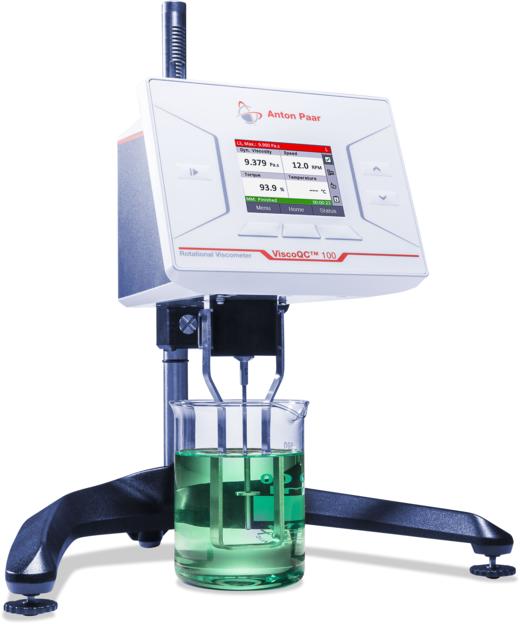 ViscoQC™ 100 –- Application: Detergent
Fit for your application in the chemical industry
The measurement of  viscosity is crucial in quality control to ensure proper consistency and constant properties of products from batch to batch. This proper consistency of the products even affects our daily lives: From paints and coatings you spray your walls with, to detergents that you squeeze out of their tubes, to adhesives you brush onto a wooden brick to glue two of them together, and more. The rotational viscometer ViscoQC™ 100 determines the dynamic viscosity of your chemical samples as a  single-point value with an accuracy of ±1.0 % of range and a repeatability of ±0.2 % of range. It is delivered ready to use out of the box and facilitates your daily quality control routine of incoming goods, production/process products, and end products.
Be the pioneer: With exciting features for easiest viscosity determination
ViscoQC™ 100 is equipped with Anton Paar's unique Toolmaster™ feature, which automatically detects the connected spindle and uses this data for the measurements. Manual selection of a spindle from the spindle list is no longer necessary. If a spindle guard is attached to ViscoQC™ 100, it will also be detected automatically by TruGuard. With its digital leveling function, ViscoQC™ 100 automatically checks the leveling before and during the measurement to guarantee proper alignment. These features provide you with unrivaled traceability of the measurement setup and ensure the determination of correct viscosity results.
User-friendly modes and accessories to guarantee great ease of use
ViscoQC™ supports you with its intuitive user interface and predefined measurement modes, including the unique TruMode (Auto Mode) which automatically determines the necessary speed to reach a certain torque value when measuring a sample. The magnetic coupling of the spindles enables fast exchange of the measurement system with one hand without the risk of damage to the instrument or spindles.
For greatest flexibility in measurement, L and RH spindles, concentric cylinders, and a double-gap system are available for ViscoQC™ 100. Manufactured from stainless steel AISI 316L, Anton Paar's spindles have higher resistance to corrosion compared to the frequently used stainless steel AISI 302. Further accessories are available, such as a Pt100 temperature sensor to monitor the sample's temperature, a thermostat bath to control the temperature of the sample, and a flexible cup holder to easily center a half pint, a pint, a quart container, and 600 mL Griffin beakers.
Request information now or download our brochure.
We are happy to answer your questions by phone at +43 (0) 316 376-366
Topics:
dynamic viscosity
rotational viscometers
rotational viscometry
viscosity measurement
digital viscometers