Tiflis Textile opens socks manufacturing unit in Georgia
Tiflis Textile opens socks manufacturing unit in Georgia
13
Jun '18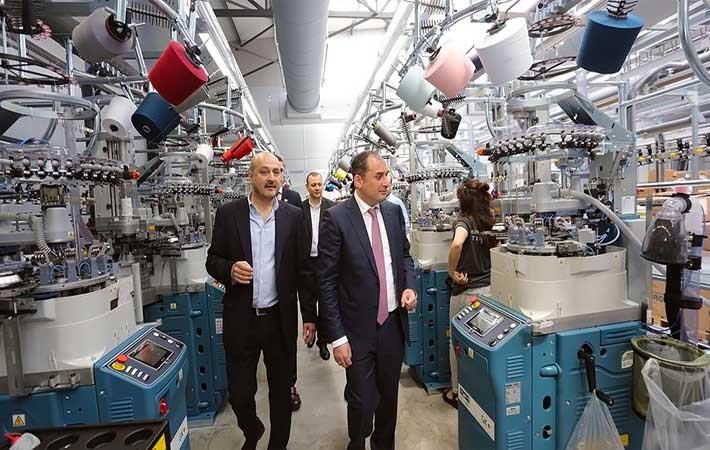 Dimitry Kumsishvili (wearing tie) and Mikheil Khidureli taking a tour of the new factory. Courtesy: Ministry of economy and sustainable development of Georgia
LLC Tiflis Textile, a beneficiary of the Enterprise Georgia programme, has opened a socks manufacturing factory in Georgian capital city of Tbilisi. The new factory with modern machinery and employing 50 persons was inaugurated by Dimitry Kumsishvili, First Deputy Prime Minister and minister of economy and sustainable development, Government of Georgia.
The new unit has been built on land given by the LEPL National Agency of State Property. The factory has come up at a total cost of 6 million lari ($2.444 million).
Under the Enterprise Georgia programme, Tiflis Textile received 190,000 lari ($77,393) of financing, which helped the company to equip the factory with the high-standard modern machinery, the ministry of economy and sustainable development said in a statement.
The company uses two components—finance and infrastructural support—of the programme, said Kumsishvili, who was accompanied by Mikheil Khidureli, the newly appointed head of the Enterprise Georgia, while touring the factory after its inauguration.
"The Tiflis Textile products will enjoy high demand in the local market since the socks are of highest quality. However, the production is export-oriented, which will certainly have a positive impact on our tax balance and will bring more foreign currency into the country," said Kumsishvili. (RKS)
Fibre2Fashion News Desk – India