Vacuum – Simply under control with VACUU·SELECT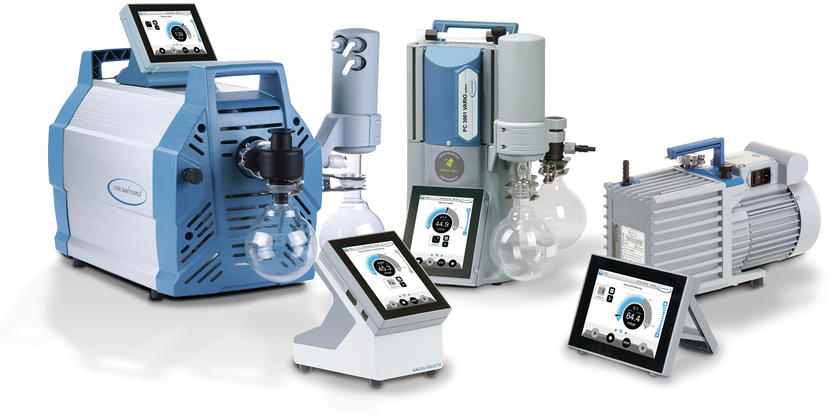 Works with all common vacuum sources and processes
Intuitive operation via touch display just like using a smartphone
Ready to use vacuum procedures for all common applications
Easy drag and drop editing for creating new procedures
Efficient, easy and reproducible ….
this is how vacuum control works with VACUU·SELECT, the new vacuum controller from VACUUBRAND. To avoid wasting much time on proper vacuum settings, the operation and functions are based on typical applications and workflows in the chemistry lab.
A solution that always works
VACUU·SELECT works with a wide range of vacuum sources, so that all applications, from rotary evaporation and vacuum drying to Schlenk-Lines and freeze drying, can be covered with just one vacuum controller.
VACUU·SELECT is available as a single unit for existing vacuum sources or integrated into one of the proven VACUUBRAND chemistry diaphragm pumps. All pumping units are now equipped with the new vacuum controller.
Different application, different vacuum control settings
The process steps and vacuum control settings may vary depending on the application. VACUU·SELECT therefore includes ready to use vacuum procedures for all common lab applications. A new drag and drop editor makes it easy to insert, delete and modify process steps to create invidualized vacuum processes. Once created the process will run exactly the same way, time after time. This ensures reproducibility and frees up time for other tasks.
The most frequently used applications can be collected in the Favorites menu for quick and easy access.
The most important features at a glance:
Intuitive operation via touch display just like using a smartphone
Ready to use vacuum procedures for all common applications
Easy drag and drop editing for creating new procedures
Favorites menu for your most common processes
Fully automatic evaporations at the touch of a button
chemical resistant and can be operated with safety gloves
works with all common vacuum sources and processes
Request information now or download our brochure.
We are happy to answer your questions by phone at +49 (0)9342 902-9662